I was recently invited to attend the Sales 2.0 Conference, which takes place on March 4 & 5, 2009 in San Francisco. I always like to attend conferences, so I gladly accepted. But I did wonder:
How does Sales 2.0 relate to Marketing Automation?
In the traditional way of thinking, if something is labeled "sales" it is clearly not marketing. Luckily, things are changing. The best definition of Sales 2.0 captures this, by mentioning the importance of having a customer-focused process that is supported by both sales and marketing: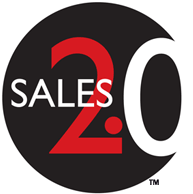 "Sales 2.0 brings together customer-focused methodologies and productivity-enhancing technologies that transform selling from an art to a science. Sales 2.0 relies on a repeatable, collaborative and customer-enabled process that runs through the sales and marketing organization, resulting in improved productivity, predictable ROI and superior performance." – Pelin Wood Thorogood and Gerhard Gschwandtner
Having applied Sales 2.0 techniques in my own job, I've seen that the collaboration between marketing and sales has improved significantly: the sales team now knows what they can expect from marketing. The processes are better defined, and the outcomes are more measurable.
Sales 2.0 Tools
On this blog I often cover solutions that support the marketing & sales process. If you look at the sponsors of the Sales 2.0 Conference you get a good overview of the type of products offered in the Sales 2.0 space. This is just a subset:
And then there are a whole range of sales productivity tools (e.g. ConnectAndSell and Xobni) and data vendors (like JigSaw). Also, services vendors are present, from lead generation services to sales training.
The Conference Schedule
In addition to interesting Sales 2.0 vendors, the conference has an nice line-up of speakers. This includes Brian Carroll (author of Lead Management for the Complex Sale), Jim Dickie and Barry Trailer of CSO Insights, Judy Fick of Unisys and many more. The event is hosted by Gerhard Gschwandtner of SellingPower and David Thompson of Genius.com. If you want to meet up, please send me an email (

) or Tweet.
Are you planning to attend the conference? It looks like there will be some interesting topics for demand generation marketers, what is your take?